PEATYS PT17 Bike Maintenance Spray - 400ML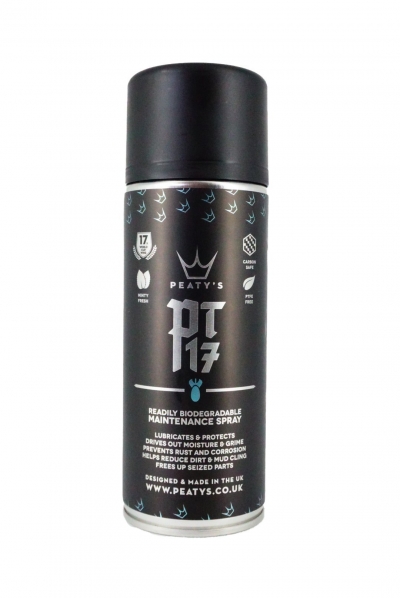 Category: MTB & Road
Subcategory: Maintenance
Peaty's PT17 Bike Maintenance Spray is not only bio-degradable but will help keep your bike in pristine condition. PT17 acts as a light lubricant, provides an anti-corrosive film on metal parts and reduces future clean-up time owing to its resistance to mud cling.
Suitable for use on surfaces including plastic, carbon, steel, paint and leather – not brake pads – PT17 is a highly versatile cleaning and maintenance product that attunes with legendary DH racer Steve Peat's drive for trail sustainability and getting the most out of every ride. It is also an effective freeing agent that will work wonders on corroded and seized parts.
Instructions
Shake thoroughly before use. Spray directly onto the component or surface from a distance of 15 to 25cm and leave for up to 60 minutes to fully penetrate or form a film.
Caution: do not apply to brake components and tyre treads.
Safety Information
DANGER: EXTREMELY FLAMMABLE AEROSOL. MAY CAUSE DROWSINESS OR DIZZINESS. KEEP OUT OF REACH OF CHILDREN. AVOID BREATHING SPRAY. USE ONLY OUTDOORS OR IN A WELL-VENTILATED AREA. WEAR PROTECTIVE GLOVES. WASH CONTAMINATED SKIN THOROUGHLY AFTER HANDLING. DISPOSE OF CONTENTS/ CONTAINER IN ACCORDANCE WITH LOCAL REGULATIONS. REPEATED EXPOSURE MAY CAUSE SKIN DRYNESS OR CRACKING. CONTAINS HYDROCARBONS, C9-C11, N-ALKANES, ISOALKANES, CYCLICS, < 2% AROMATICS. CAUTION: PRESSURISED CONTAINER: MAY BURST IF HEATED. PROTECT FROM SUNLIGHT. DO NOT EXPOSE TO TEMPERATURES EXCEEDING 50°C/122°F. DO NOT PIERCE OR BURN, EVEN AFTER USE. DO NOT SPRAY ON AN OPEN FLAME OR OTHER IGNITION SOURCE. KEEP AWAY FROM HEAT, HOT SURFACES, SPARKS, OPEN FLAMES AND OTHER IGNITION SOURCES. NO SMOKING. USE ONLY AS DIRECTED.
Price: £6.99