Revgrips 32.5mm (Medium) Pro Series Grips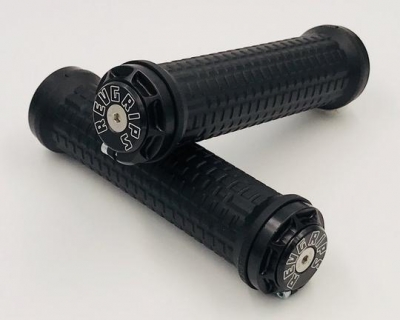 Category: MTB
Subcategory: Parts & Components
Sleeve Colour: Black, Grey, Neon Orange, Neon Green, Neon Pink, Neon Yellow, Turquoise
Clamp Colour: Black, Grey, Red, Blue, DVO Green, Gold, Purple, Bright Orange
Pro Series Shock Absorbing Grip System with fully adjustable feel from ultra firm to ultra soft.
32.5mm* (Medium) sleeve size, this is our Top Shelf grip system complete with a tuning kit, assembly tools, lightened clamps and your choice of colored grips and clamps. Everything needed to install and adjust your grip system is in the box. Choose your size, grip color, and clamp color.
Once you have a set, all of the soft goods (Grip, Inserts, etc.) can be replaced, making these grips last a life time.
What's in the box:
• 2x Grip Sleeves
• 4x Ultra Light Aluminium Clamps
• 18x Shock Absorbing Inserts
• 8x Tuning Washers
• 2x Aluminium Bar End Plugs
• 5x Clamp Screws
• 1x 2.5mm Hex Wrench
• 1x 3mm Hex Wrench
30-Day Satisfaction Guarantee
We understand buying a set of Revgrips is a considered purchase. That's why, if you aren't satisfied with your grips, we will work with you to make them work or if they absolutely aren't right for you, offer a full refund (less any associated shipping costs) within 30 days of purchase. We ask the grips are returned in good condition, excluding crash damage and with minimal signs of wear which are in-keeping with enough riding time to tell if the grips are doing their job.
*All sizes are an approximate measurement due to the variances in rubber/resin manufacture
Price: £99.99